Section News
Details

Written by

Jonathan

Category: Rugby - Ladies
Hits: 2068
The Ladies Rugby Section is in the stages of being formed and new players no matter what their standard are welcome.
Anyone wantng further information please contact Ins Lesley Wheatley (7487)
Lesley is a current member of the PSUK National Team and is just back from Grand Cayman where they played 2 matches
against the National Team winning both matches.
---
Details

Written by

Jonathan

Category: Sea Angling
Hits: 2924
The section offers competition in two disciplines namely boat angling and shore angling;
The boat league is fished over 6 matches with results deciding the teams for the following years regional and national competitions. Teams consist of 4 persons. Results in the regional competition decide qualification to the national competition. Individual results in the nationals may qualify members to represent national teams.
In addition there is a Northern Counties boat competition.
The shore section has a similar league format decided over 8 competitions. Again league placings decide teams for the following years regional and national competitions. Success at individual level at the national competition will qualify members to represent national squads.
In addition the shore section fish a two legged cup match for a memorial trophy, usually in the summer months, as well as knockout competitions.
---
Details

Written by

Steve Gill

Category: Table Tennis
Hits: 668
Congratulations to Lewis Cadden for being selected to represent PSUK
in the European Police Championships in Slovakia.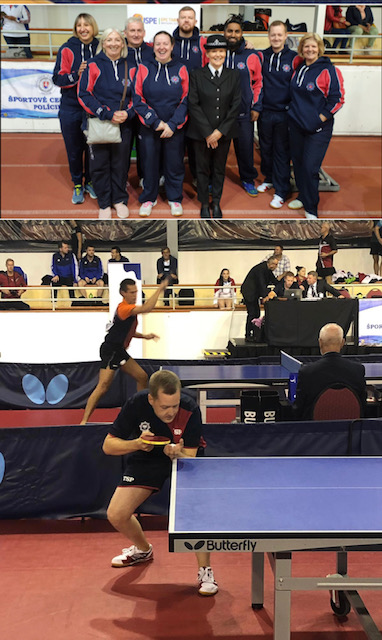 ---
Details

Written by

Steve Gill

Category: Surfing
Hits: 75
Northumbria Police Surf Club evolved from three pals on the same shift putting rest days to good use during lockdown 2020, by digging out our surf boards and heading to the beach, along with many others this year.
The idea of the club started as we found that we came out of the water with a lot less stress and worries than what we went in with. We quickly realised that there must be other police officers and staff that may already be familiar with sport or want to give it a try. There was a huge number of people who said they already surf or have always thought of trying it from Northern, Central and Southern. We were amazed at the amount of people who wanted to join in and the club was formed.
To begin with there will be a surf session organised once a month beginning in 2021, but in the busier and sunnier seasons this will likely increase.
As a brand new club, we are open to ideas and look forward to running a club that best suits everyone.
We will mostly meet at Longsands Beach, Tynemouth and rentals for wetsuits and surf boards are available from Tynemouth Surf Co which is located on the beach. Funding received to the club will go towards paying for rentals, purchasing both communal boards and wetsuits for member use. There will be trips away to other beaches with the idea of travelling to other force areas to meet up with their surfers. Sessions with instructors will be arranged for members who want to learn and for those who want to improve their surfing skills.
The club welcomes everyone from total beginners to advanced surfers and the focus is on having fun and de-stressing rather than competing. A decent level of swimming is advised. For any questions please get in touch.
Chairman - Adam Henderson (PC 2248)
Treasurer - Ben Blackburn (PC 8014)
Secretary - Josh Martin (PC 1142)
---
Details

Written by

Jonathan

Category: Triathlon
Hits: 2848
The Northumbria Police Triathlon Section was formed in 2012 and is affiliated to British Triathlon under the club name Force 10.
We regularly have members representing the club in local, national and international events competing in every discipline from sprint to ironman distance.
Further details on events and training sessions can be found on HP TRIATHLON alternatively feel free to contact:
Chair: Alan Cairns alan.cairns.7240@northumbria.pnn.police.uk
PSUK Events/Fixtures 2019
PSUK Sprint Champs, Discount Code police123
1st Sep 2019
St. Neots Cambridgeshire
Libby Free
PSUK Standard Distance Champs
30th Jun 2019
Worthing, Quote Discount Code POL#WOR#18
Libby Free
PSUK Middle Distance Champs
19th May 2019
Nottingham
Libby Free
PSUK Duathlon Champs
TBC: 24th Mar 2019
Derwent
Karl Webster
Steve Nicholson competing in the Helvellyn Triathlon.
---