2019 Diary to date
7th April 2019 - Day trip to the Lakes - open to all.
14/15 May 2019 - Over night trip to Eskdale. We will walk from Langdale to Eskdale on the first day, stay over night in Eskdale and walk back the following day.
21/22 June 2019 - Light the Lakes Charity Challenge.
21st July 2019 - Day trip to the Lakes - open to all.
12-15 September 2019 - Snowdonia trip staying at the The Rocks Hostel.
If you are interested in any of the above trips please e-mail Chaosclub2018@gmail.com
CLICK HERE to watch a short video of the 2018 Trip to Avimore.
The Northumbria Police CHAOS (Climbing Hills and Other Sports!) Club is probably the oldest of the sports sections having been formed in 1974. It is definitely the most appropriately named! Some History; (thanks to ex-Inspector Dave Peart).
The club was formed in the bar of the County Hotel on Gosforth High Street by Dave, Gordon Mew, Larry Trotter & Gavin Aarvold – all names that will be familiar to ex-police cadets of that era.
The spiritual home of the club became the Isle of Skye as it took six attempts to finally complete the traverse of the Cuillin ridge which was nearly as dangerous as being a passenger in the van at the time of the infamous 'roof rack' and 'flying helmet' incident which was synonymous with the ethos of the club at that time! While the main club activity was climbing and walking the CHAOS club organised a series of biannual 'madcap' events to raise money for children with special needs. These events raised the profile of the club, the force and considerable sums of money.
They began in 1978 with a 10 day circumnavigation of the force boundary organised by Bill Rowe. Canoe from Newbiggin to Sunderland, onto Edmundbyers by bike, walk to Greenhead, horseback through Keilder forest to Carter Bar, bike to Coldstream and canoe down the Tweed and then the North sea back to Newbiggin! Two years later 'Pearty' organised the 'Caledonian Row', a journey from Oban to Inverness in a ¼ ton 'Clinker built' lifeboat with the crew of 8 club members kitted out as Victorian oarsman! An overnight stop at Colin & Patsys place on the shores of Loch Leven (venue for many years of the annual cadet camp – does anyone else remember 'The HUMP?!) and plying the local police with brown ale to get the locks opened up were particular highlights plus Dave has fond memories of kipping on the snooker table in Inverness police club! Nearly £3,000 was raised for charity and the venture made the cover of Police Review in October 1980!
How do you cap an adventure like that? Simple – In 1982 you walk 125 miles from Ravenglass in Cumbria to Headquarters via Hadrians Wall dressed as Roman Legionnaires! On the way you kidnap a train driver on the Eskdale and Ravenglass railway, hold him for ransom and get loads of publicity! You also terrify two walkers on Hadrians wall when your legion emerges from the fog – they really do think they have seen ghosts! Another highlight was clanking into Housesteads fort, unannounced, swords drawn, banners flying, upsetting the guide as squads of Japanese tourists abandon him to take photos of the 'legion'. He threatens to get the police because they had marched in the back gate without paying and was dumb founded when he was told…….'we are the police!'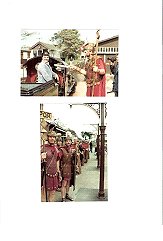 Pearty's plan to arrive at HQ on Tuesday afternoon (riot training day was always a Tuesday back then) to take on the PSU was thwarted when he couldn't get his legion out of the Blackbird……………….!
The Legions uniforms were obtained from a film outfitting company in London and were insured for £4,000!
The final madcap adventure was in 1984 – club member's livers couldn't take much more! This was the 'Paddling Peelers' trip from Lechlade in Gloucestershire to Westminster Bridge dressed as 'Peelers' paddling canoes adapted for disabled people. They slept at section houses en route and (I find this hard to believe) they consumed copious amounts of ale, along with their 'safety crew' of Royal Marines.
The Peelers included Dave Peart, Chris Dew, John Stephenson, George Storey, Phil Milne, John Robinson, Tommy Coull, Graham Cook, Mal Naylor, Keith Mole, Chris Palmer & Mick Smith. (Paddling Peelers 1984) Whilst these fund raising events were taking place the clubs mainstay activities of hill walking, climbing and mountaineering continued and that remains the same today.
The Chaos Club today; Is active and any member of the Northumbria Police Sports and Social Club is more than welcome to join in any of the clubs activities. Each winter a trip (usually 5 days) is organised to somewhere in Scotland where activities include winter walking, mountaineering and climbing;
(Torridon March 2008 Ron Whittaker, Ian Mawdesley, Andy Hastie, George McDougal,John Bower, Pete Burns, Paul McLeod, Grant Reed, Calum Garrick, Dave Rickaby, Tony Forster, Dave Garrick, Linda Bray).
(Liathach, Torridon March 2008).
In May we are back in Scotland again for similar activities, though mountain biking is usually added to the week's agenda. In autumn there is usually a trip to Skye because most of us still haven't managed to do the Cuillin traverse! A recent innovation was our first 'Euro CHAOS' trip to the French Alps in July 2008 where over the week we walked, did some glacier work and some 'via ferrata's. (Mont Buet, Chamonix, July 2008)
Fell Races; In August each year club members head off to North Wales for the annual Snowdonia 7 team fell race. This is a gruelling 19 mile event for teams of 4 across seven 3,000' mountains and has been held since 1974. We have had a fair degree of success at this over the years – though now we find we are most competitive in the veteran's categories and it would be good to have some younger members taking part!
(Snowdonia 7 -2nd Vet team 2008 – Jeff Ross, Kevin Bray, Nick Spencer & Dave Hall. Kevin & Dave first competed in the race as cadets in 1976!)
(Snowdonia 7 2008 Dave Dunnington, Ian Mawdesley, John Bower & George 'never again' McDougal!).
The annual CHAOS club 'Lakeland 3000' challenge where members tried to visit the 4 highest tops in the lake district on foot within 24 hours (usually without too much success!) led to the development ofthe mainstay of the clubs activities, the Cheviot 2000 team fell race which has been held in June each year since 1986. Around 100 teams of 3 from various police forces and the armed services race over a 23 mile route through the Cheviots. The event always provides a memorable weekend. Some come to win, some try to get a 'sub 7 hour' mug, but most come for the challenge – and try and avoid being nominated for, or worse winning the 'golden welly' for the biggest cock up of the weekend! Over the year's club stalwarts Dave Peart, Dave Rickaby, Dave Speedy and now Gary Saunders have taken on the task of organising the race.
The event has its own website www.cheviot2000.org so for details about the race have a look there!
CLUB EQUIPMENT;The club quartermaster, Inspector Paul McLeod holds a supply of walking and camping equipment which is available for loan to members of the NPSSC. This can be accessed by contacting either:
Sgt. Mick Aspey, Northumberland Area Command, Mick can also give you details of future club events and add you to our contact list of members